Main OC:
Born as Ellie Scapelli, daughter of Tony 'Trigger' Scapelli, the oldest of a group of racketeers padding the seedy underbelly of St. Canard, she was once a weapons specialist and arms dealer for the black market.
Commissioned by Negaduck to create a massive super weapon to level the city with, she cracks under the pressure and presents him with a malfunctioning creation. Furious at the weapon backfiring and ruining his plans, Negaduck leaves her trapped in one of her warehouses, triggering every explosive she ever made to go off at once, blowing her sky high.
Thought to be dead, Ellie wakes up months later- badly burnt, disfigured, and missing an arm- under the care of an unstable scientist by the name of Madam Anna Matronic. Having an affinity for canines, and having planned on fusing Ellie's body with her machines, she instead decides to assist Ellie in her quest for vengeance against Negaduck.
Shedding her old identity and ties with the mafia all together, Ellie begins her new life as Red Nova, feeling a greater purpose, and begins making weapons again with personal modifications to allow her easy use. Concealing her identity behind a helmet, visor, or goggles, she takes to the skies with a jetpack to allow for easier maneuvering, shooting across the skyline at break neck speed.
She becomes obsessed with explosions and astronomy, convinced that the trauma she went through gave her a new perspective on life. She intends to share it with St. Canard, reasoning that there is no way to save the city, it has to be burnt down to the ground, to start over again, like the rebirth of a star.
Other Characters Penned:
Alex (Al) Inkwell, an OC of the Darkwing Duck universe who runs a comic book shop in St. Canard. She's an avid collector of old toys, comics, and video games, obsessive over whatever her latest interest is.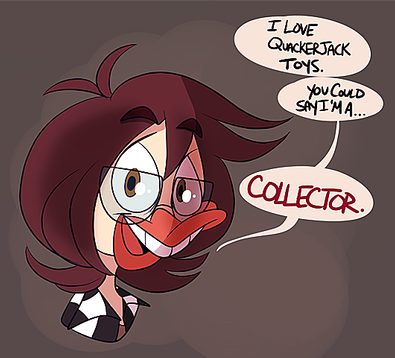 Fenton Crackshell, a character from Ducktales, this particular one being the 87 version. He often commutes across the bay to St. Canard for occasional business on behalf of his employer and may or may not become entangled with the criminally inclined.